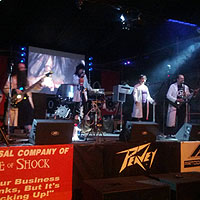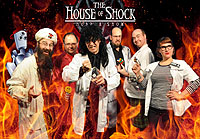 192nd Lecture
Wednesday, October 28th, 2015 - The House of Shock, Jefferson, LA


photos by Chris Enyart. video shot by Chris Enyart

Set: I Have the Power, Android Woman, Think Tank, Imperial March, Atomic Clock, M.I.L.K., Death to the Angel of Death, Doctor Who, Mallet of Metal, Big Bomb, Dance or Die, LoBoToMy, Science Party, Bow 2 Me, They Said I Was Mad, I Scream, Bucket of Blood, Born in the South, Black Plague, Zombie Apocalypse BBQ, Too Many Atoms, Stonehenge, Now You're A Man

Great night at the House of Shock, debuting a new song in front of a lot of old friends, with a special appearance by Lab Tech Remy Dee! Mixed by Hacksaw.