March of the Skeletons
(c) 1995 by Kirk Madison and Lewis D'Aubin

PREV TRACK
BACK TO CD

prologue:
In the beginning, there was evil.
EEEEEVILLLLLLL.
And then, evil created good.
Then someone said, "let there be death."

The skeletons march in
The evil one approaches
Everyone has sinned
The evil one is laughing

He sees them all and they cover their eyes
He starts to laugh and they gape in surprise
He mows them down with a beam from his mind
And peels their skins like a fruit from the rind

The dead ones march around
Their ranks are closing in
They march without a sound
The rank, decaying grin

He makes them do unthinkable things
They are the pawns and he's their evil king
He steals a car and commands them to drive
He pulls the strings and they dance as if alive

"Have you the courage to stand against the Evil One?"
Man: Who are you?
Evil One: Don't ask!
Man: Noooooooooooo!

The skeletons march out
You're left here on your own
The battle was a rout
You're now a pile of bones

Look at your leg, there's a femur instead
Look at your arm, then you grope for your head
There's just a skull where your face used to be
You yell at them, hey wait up for me!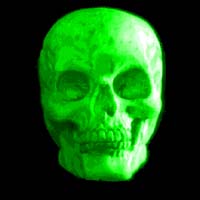 In the late 80's, a loose band concept had formed around Kirk Madison, myself, Tyson Vaughan, and James Parrish. We would get together poolside at Kirk's house, hole up in the cabana and attempt to write 'real' music. James would bring serious, Beatle-inspired song ideas, usually centered around lyrics about self-doubt and pining after girls. Tyson would bring his harmonica and a dash of world-weary humor. Kirk and I would bring a punk sense of nihilism, aggression, and annoyance, and James would eventually tire of the din and go outside and perch on the end of the diving board, staring into the water.

The opening monologue started as one of my attempts to annoy James with mindlessly evil blather (parodying Motley Crue of course). Behind them is a riff cribbed from another excercise in evil, an incomplete song entitled "It's Midnight - Time to Die!" We had a LOT of little song snippets like this lying around, unrecorded and incomplete. By 1995, Kirk was away at college and whenever he'd come back to New Orleans, we'd attempt to get together and record something with my increasingly complex studio setup. In this instance, I was fooling around with a computer sampler hooked to my Amiga that permitted high resolution recording and I had just made a 10 second 34000Hz sample of a Paiste 3000 crash cymbal (incidentally, this is the same sample I'm still using today.) Thinking that the crash cymbal was the most unrealistic element of my Alesis SR-16 drum machine, I had wanted to try this sound out along with some drums and so I composed a slow, plodding metal beat, based on an old song snippet called "Wasted Alone" that Kirk and I had written a few years before. It sounded pretty good with the new cymbal!

Eventually, Kirk showed up at my house stoned out of his mind, with this Flying 'K' guitar and Rockman distortion box, and we began reminiscing about the old song pieces we used to write. We started stringing those together on my 8-track TOA multitrack. 'March of the Skeletons' itself was a song fragment from back then - begun but undeveloped. So that night, we finished a song that had been incomplete for over 5 years! I was VERY new at singing at this point (this is only the second thing I had written that involved any kind of tonal singing at all, the first being 'Rabbid') and so croaking out these lyrics was a challenge at the time. I was quite proud of myself! We completed the first demo of this song that night.

There was no solo on the original demo, so I waited until a session with Chris Flattmann to ask him to contribute a solo. Chris contributed TWO guitar tracks - one in the style of a heavy metal virtuoso and one in the style of a guy who just acquired a guitar and didn't know how to play it, so he would just dive-bomb on the tremolo for a 'solo'! These two personalities took turns, making for an interesting center of the song.

This song was the last number of our very first, original stage show. At the end of this song, the lights would go out and when they came back on, Dr. Pinkerton had been replaced by an empty lab coat with a SKELETON in it! Or, actually, with a foam skull in it. (we couldn't afford a whole skeleton! Pathetic, eh?)

For the final album version, we (sadly) replaced most of the original tracks and I devised the weird ending with the alarm clock, based on the idea that it was all a dream... OR WAS IT?

Since 2004 or so, we've been serving up this old favorite in a much more uptempo SKA variant, which eventually was recorded for the '10th Anniversary Compilation' released in 2006.


Credits
Drums...........drumbot
Guitars.........Jeff King
Bass............Chris Flattmann
Synthesizer.....Lewis D'Aubin
Lead vocal......Lewis D'Aubin
Backing vocals..Lewis D'Aubin
Recorded and mixed 1998 at C.O.G. Secret Lab, Kenner LA